Camping Cap d'Agde Seaside
The 5-star Cap d'Agde Les Champs Blancs campsite is set in exceptional natural surroundings, 2 km from the beaches of Cap d'Agde and just a short drive from the beaches of Vias and Marseillan.
Have you been dreaming of a waterfront vacation in the Mediterranean and a stay in a luxury open-air hotel by the sea? Book your comfortable pitch or premium rental at the Cap d'Agde Les Champs Blancs seaside campsite today, and treat your family to a unique experience close to the beautiful sandy beaches that make the Languedoc and Hérault regions so famous.
The 5 most beautiful beaches in Cap d'Agde near the campsite
Plage de la Farinette, Vias-Plage (9 km from campsite)
Welcome to the family beach par excellence at Vias-Plage. Conveniently located in the center of the Viassois coastline and close to the town center, La Farinette beach is also very well equipped. Parking, beach soccer pitch, showers, toilets, disabled access, first-aid post, summer night market, beachfront bars and restaurants: everything you need for safe swimming and family fun on the beach.
Plage de Richelieu, Cap d'Agde (3.4 km from campsite)
This beautiful Cap d'Agde beach of fine sand stretches for over a kilometer. It is bounded by the port and Rochelongue beach at Cap d'Agde. It's easily accessible by car (4 parking lots nearby), bike and on foot (approx. 45-minute walk). Richelieu beach has another great advantage: it's just a stone's throw from the Île des Loisirs (Aqualand, Luna Park) and a short footpath takes you to some of the most beautiful beaches in the Hérault.
Nautical center with pedal boat and towed buoy rentals, mattress rentals, showers, toilets, beach volleyball court, restaurants, disabled access: the facilities are also up to the expectations of vacationers and you can take advantage of them during your stay. seaside camping at Cap d'Agde.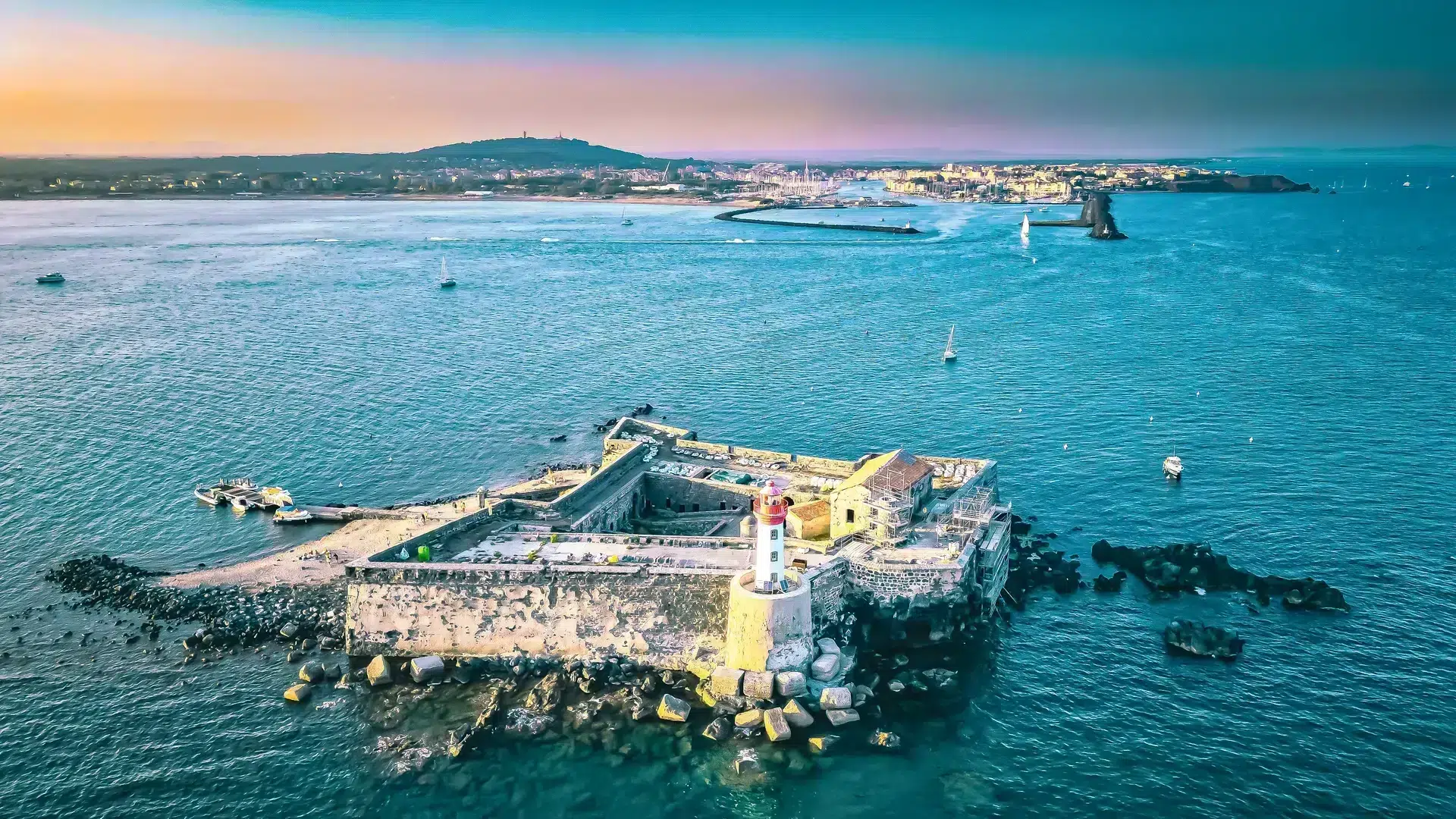 La Grande Conque, Cap d'Agde (5.5 km from campsite)
Don't worry, you'll quickly recognize it by the color of its dark gray sand tending towards black. A black sand beach? No, you're not dreaming: La Grande Conque at Cap d'Agde lies at the foot of basalt cliffs of volcanic origin. It's a breathtaking sight that's well worth experiencing during your seaside holiday in the Mediterranean.
Plage de la Tamarissière, Vias-Plage (6.7 km from campsite)
Bordered to the west by the canal and bisected by the mouth of the Hérault river, the Tamarissière beach in Vias has an astonishing configuration. It is sheltered by a pine forest that will delight nature lovers.
Plage d'Honneur, Marseillan (7.2 km from campsite)
Conveniently located between the harbor and the Avenue Méditerranée, Marseillan's Plage d'Honneur is accessible to all bathers and close to the town center. The seafront promenade and the sight of boats leaving or joining the port invite you to escape to one of the most beautiful seaside resorts in the Hérault.
Highlights of our camping holiday by the sea in Agde
The 3,000 m² aquatic area in Agde with heated pools, slide, paddling pool, balneotherapy and solarium at Les Champs Blancs campsite in the Hérault will keep you busy for hours. Having said that, or renting a rental or pitch at our Cap d'Agde seaside campsite, you can add water sports for the whole family to your program of activities, including stand-up paddle, kayak, sailing, water skiing and jet-skiing.
Staying at a seaside campsite in the south of France means enjoying an unforgettable experience. exceptional sunshine all year round, walk or cycle to the beach without having to take your car, experience the atmosphere of the night markets in summer, stroll along the coastline and enjoy a drink on a terrace facing the sea. And all this, of course, at a competitive price in a top-of-the-range open-air hotel with 5-star facilities and services.
Discover the region, the pool and our restaurants