Mobile home rental Cap d'Agde
"Non-contractual photos
Discover our Agde mobile home rental range for 4 to 8 people, for the authenticity and friendly atmosphere of a traditional campsite, contact with nature and the comfort of a luxury mobile home with fully-equipped kitchen and private terrace.
Our Cap d'Agde campsite adapts to every family's wishes and budget. Because each of our guests in search of excellence is different, our selection of mobile homes in Cap d'Agde includes several sizes and models of mobile residence:
Mobile homes for rent for 2 to 6 people in Agde
Standard mobile home for 4 people (2 bedrooms): the perfect accommodation solution for families with 2 children and groups of friends who want to save money with our Cap d'Agde mobile homes.
5-person standard mobile home (2 bedrooms): with its third bunk bed, you can bring along your child's best friend, or your nephew who invited himself at the last minute.
Comfort mobile homes for 4, 5 or 6 people: the Comfort range includes extras such as Full HD TV and air conditioning.
Standard mobile home for 6 people (3 bedrooms): the master bedroom with double bed is clearly separated from the 2 other bedrooms with single beds by the living room. The quality/price ratio of our Agde mobile home rental and its excellent layout make it one of our favorite rentals for groups and large families who want to reduce their expenses during their stay in the Mediterranean.
5 or 6-person mobile homes with air conditioning: an added comfort factor to consider if you want to maintain an optimum temperature inside your home in the high heat of the season.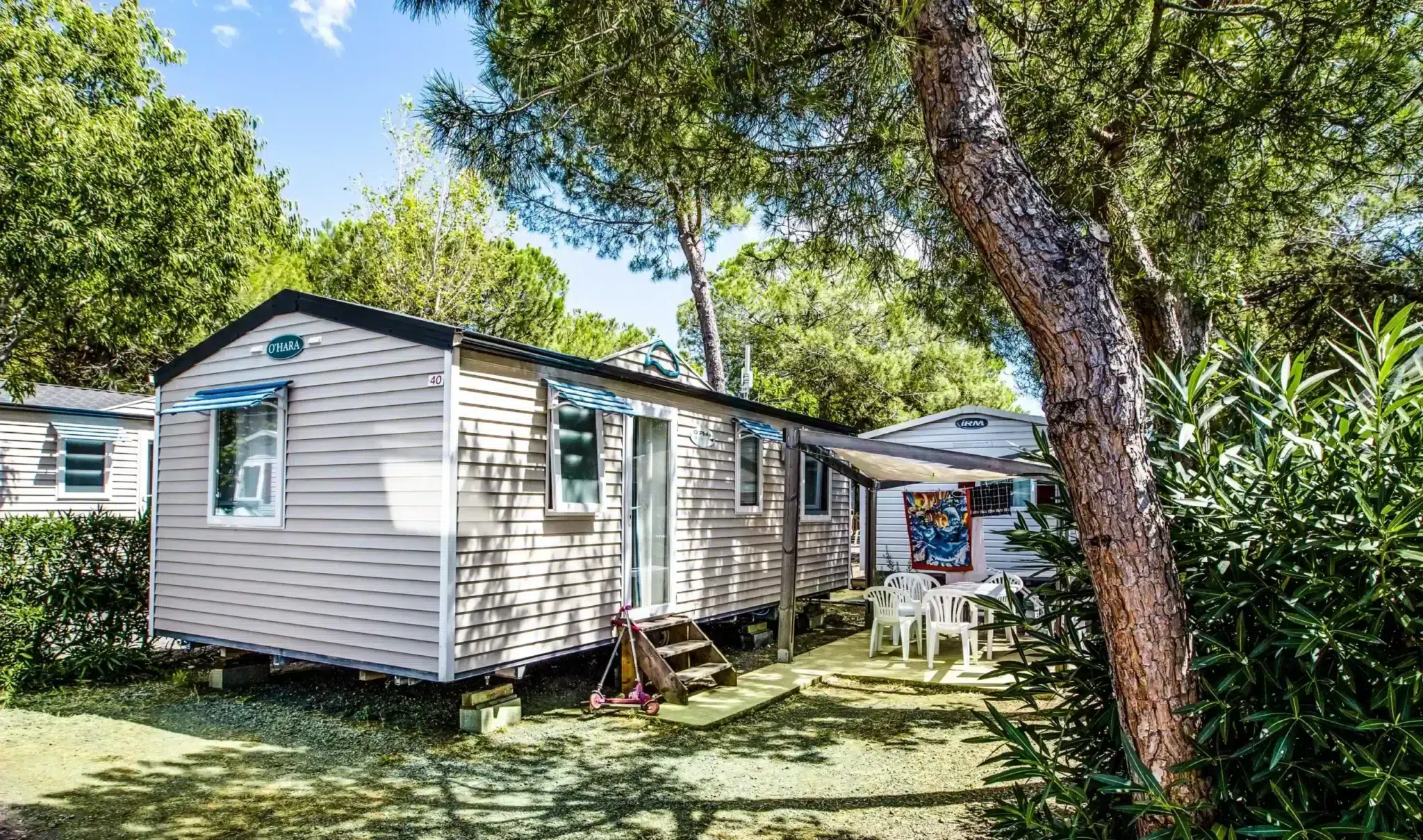 Fully-equipped mobile homes in Cap d'Agde
Each Cap d'Agde mobile home rental has a modern design and is recently built.
All our mobile homes have a spacious living room with sitting area and fully-equipped kitchen (hob, fridge, coffee maker, microwave, crockery), 2 or 3 bedrooms, bathroom, wooden terrace with garden furniture and parasol or arbour. You can also choose accommodation with balneotherapy, a camping pitch in Cap d'Agde or a chalet in Agde and compare prices to find your cheap camping holiday in Cap d'Agde!
Make yourself at home
and relax
Vacation rentals in Champs Blancs